Start Today to Come Back Stronger Tomorrow

At APCO, we've been talking about the need to start planning for the future, despite the significant number of unknowns. While we don't fully know what our collective new reality will look like, resilient organizations must act now to establish their foothold to come back stronger, recognizing there will be varying degrees of coming back.
While we're only a few months into this crisis and there are constant shifts on almost everything, we're learning every day. We're in regular contact with our teams around the world who are at various stages of helping clients re-emerge and trying to better understand what works, what doesn't and what will the post-pandemic world look like.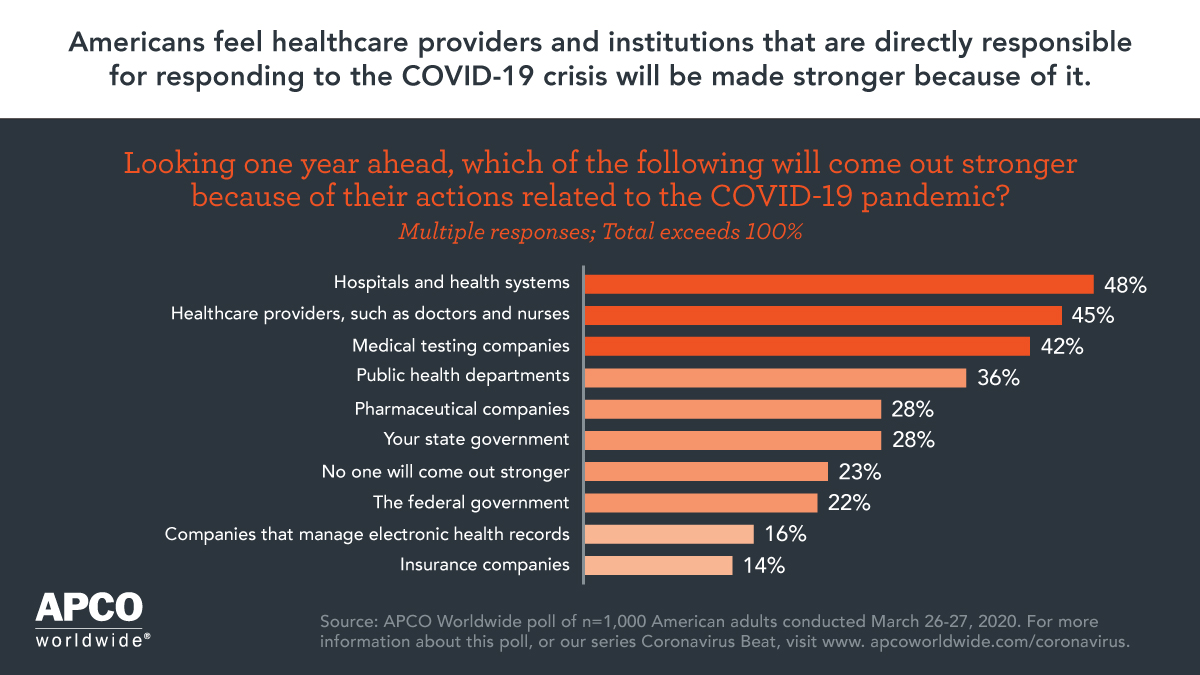 We've also been collecting data for several weeks. We know that total confidence in an employer's ability to weather a downturn in sales and stay in business is high (79% confident, 39% very confident). We also know that 74% of Americans say the way a business treats its employees during the COVID-19 outbreak will influence their decisions to purchase from the company and that Americans believe that businesses will put more attention on the health and safety of their customers (85%) and the way they treat their employees (75%).
74% of Americans say the way a business treats its employees during the COVID-19 outbreak will influence their decisions to purchase from the company.
While we don't have all the answers, we're beginning to identify insights that we need to fully appreciate as we work to try to come back stronger. We all know that the COVID-19 crisis has, and will continue to, reset social, political, cultural and economic equilibriums. The way we relate to one another and our expectations of institutions has, and will continue to, fundamentally change. Governments, businesses and citizens will need to address several questions as we begin to think about how to plan for the future and collectively draft a New Social Contract for the post-COVID-19 world. Here are just a few:
WHAT DOES IT MEAN TO BE ESSENTIAL?
The COVID-19 pandemic has concentrated attention and resources on the people and institutions that are essential to society—healthcare workers and hospitals; food service workers and restaurants, clerks and grocery stores; couriers and online retailers; scientists and the biopharma industry. These vital workers and their employers will earn ESSENTIALNESS DIVIDENDS—both financial and reputational—that recognize their systemic importance to our welfare and continued existence.
WHAT ARE OUR NEW SHARED STAKES?
Stakeholders are evolving both literally and figuratively. Their expectations have changed. Their needs have changed. They have a desire for the right balance of engagement in our current environment of "digital by default." And, for many organizations, the stakeholders themselves have changed. New stakeholders are entering the field, and longstanding powerbrokers are no longer in the mix. As STAKEHOLDER CAPITALISM takes hold, the way we engage with new people and powerbrokers will be critical for sustained success.
HOW DO WE FIX SYSTEMIC FRACTURES?
The pandemic has laid bare systemic fractures that have fundamentally disrupted lives and livelihoods. And, for the foreseeable future, we will live in a constant state of disruption. In response, industries will need radical introspection that leads to big shifts in how they operate. Businesses will be forced to innovate and operate with agility. There will be new ways of solving problems, engaging and activating. The role of experts will continue to be important but expertise is going to look and feel differently.  Businesses, governments and civil society will need to mobilize to devise SYSTEMIC HACKS to serve the unmet needs of citizens.
HOW CAN RIVALS BE PARTNERS?
The dynamic environment demands new ways of thinking about partnerships. Competitors become allies. Governments become collaborators. Rival nations find ways to work together, even in the face of isolationist tendencies. The healthcare community becomes a go-to for all industries. And technology empowers everything we do. A new model of RIVALRY PARTNERSHIPS is bringing together competitors and strange bedfellows to challenge societies' most intractable problems.
WHAT DOES IT MEAN TO LEAD WITH EMPATHY?
Businesses are going to have to listen and learn like never before. They need to better understand expectations—of their products and services, and of their conduct and purpose. In the era of DOUBLING DOWN ON STEWARDSHIP, employees, customers and shareholders will expect institutions to account for their actions, operate with integrity and demonstrate their unique value to society.
At a moment when the health and financial impacts from COVID-19 are still mounting, it may feel premature and uncomfortable to think about what comes next. But we must, and APCO can help. Beginning this week, we are launching the Come Back Stronger resource page and a blog series to share our perspective, our learnings and recommendations. This week we are focused on the health industry.