APCO Worldwide's TradeMarks Study Shows Tech and Health Care Sectors Primed to Set Agenda in Next Congress
Washington (September 11, 2018) – A survey of policy leaders in Washington by APCO Worldwide shows that technology and health care associations are best positioned to drive their agendas in the next Congress.
The key results, available here, were released today as part of the fifth iteration of APCO's annual TradeMarks Study, which measures the influence and efficacy of advocacy associations in Washington.
"The divisiveness of the Trump Administration and its complicated relationship with Congress is forcing associations to change the way they interact with Washington," said Bill Dalbec, the study's principal investigator and managing director for APCO Insight, the research consultancy at APCO Worldwide. "The work done by health care and technology associations to broaden their relationships and adjust strategy and tactics in the current political landscape, puts them ahead of other sectors in how they're perceived and positioned to succeed in the next Congress."
The TradeMarks Study surveyed 340 policy leaders in Washington – congressional staff, executive branch officials and private sector executives – to measure perceived performance on 15 characteristics that make an association an effective public policy advocate in the eyes of its key stakeholders.
This year, ten different associations are identified as the top performer across the characteristics. The top-ranked association for each characteristic is listed below: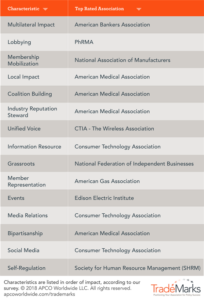 Past TradeMarks studies have shown the second year of a Congress is a time for action for associations, activating relationships built during the first year. However, the disrupted dynamic between the Executive Branch and Congress have forced associations to change their approach and continue relationship building in hopes of delivering on their agendas in the 116th Congress.
Respondents to the TradeMarks Study believe technology and health care associations have succeeded by using current policy debates to put more of an emphasis on key relationship-focused characteristics like coalition building, multilateral impact and unified voice.
"This year's findings show an interesting turnaround story for tech associations, and it couldn't happen at a more important time for a sector that is feeling political heat like never before," said Gadi Dechter, senior director and head of APCO's Washington-based public affairs practice. "The results demonstrate why laying the groundwork now, even with the fate of Congress still to be determined, is crucial for associations to be prepared come January."
In addition to these findings, APCO's TradeMarks Study reveals the importance of taking a stand and tapping into policymakers' mindsets and what they care about to drive the dialogue on critical issues.
"In order for associations to be resilient and move their agendas forward, they need be bold and play offense," said Evan Kraus, global president and managing director of APCO's Washington office. "The seismic changes in the partisanship of our politics have made it easier to move policymakers from the edges instead of the middle. The most effective associations will use the latest in data and digital to not just identify the tribes that are moving issues forward, but understand and influence them as well."
For more information about the TradeMarks Study, visit here.