APCO Partners with Graça Machel Trust to Launch First-Ever Women Advancing Africa Forum
APCO elevates commitment to women-owned businesses alongside former First Lady Graça Machel at inaugural WAA Forum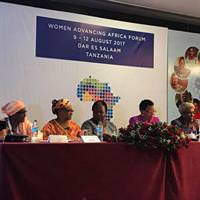 DAR ES SALAAM – APCO Worldwide, the world's largest women and employee-owned communication consultancy, helped launch the first-ever Women Advancing Africa Forum today, announced APCO founder and executive chairman, Margery Kraus.
The inaugural forum is the culmination of a multi-year partnership with the Graca Machel Trust, an organization led by former First Lady and wife of the late President Nelson Mandela.
"As a women-owned business, APCO has been committed to advancing women and girls for decades," said Kraus. "Women Advancing Africa is a great example of what can happen when bright, passionate women come together to advocate for a voice at the table to drive positive change. Initiatives like these are core to our values and help drive our business forward."
The Women Advancing Africa Forum is a first-of-its-kind initiative focused on empowering women to better participate and benefit from Africa's growing economy. The Trust and its partners have gathered more than 200 African women leaders from government, civil society and the private sector to strategize and craft a common agenda that places women at the center of Africa's development and accelerates the economic advancement of African women.
The Women Advancing Africa Forum elevates APCO's longtime commitment to empowering women and girls. For more than 30 years, APCO has assisted clients in advancing inclusion and creating opportunities for women and girls around the world. Over the past two years, APCO has worked closely with the Graca Machel Trust, providing counsel, support, and in-kind services and engaging corporate partners to help launch the Women Advancing Africa initiative.
In addition to being the convening partner of the Women Advancing Africa Forum, APCO is a proud member of the Women Presidents' Organization, of which Kraus is the chair of the board of directors. APCO is also a member of C200 and WEConnect International.