Shaping Global Health: Lessons Learned From the World Health Summit 2022
From October 16 to 18, the World Health Summit (WHS) convened in Berlin under the World Health Organization's (WHO) co-chairmanship, following the credo of "Taking Global Health to a New Level," aiming to accelerate action on key issues of concern to the global health community. Pressing topics this year included investment in health, architecture for pandemic preparedness, digital transformation and health systems equity and resilience. Reoccurring themes included the importance of collaborative surveillance and international partnerships to better meet and tackle current and future global health challenges.
APCO's Germany team was on the ground to cover the latest developments on the global health agenda as well as to support our client Rotary International in securing global financial commitments on behalf of the Global Polio Eradication Initiative (GPEI) vis-a-vis a Pledging Moment co-hosted by the German Federal Ministry for Economic Cooperation and Development (BMZ) and the WHO.
The Pledging Moment ran under the title of "Investing in a Polio-free Future for More Resilient Health Systems" and recognized partners and major donors who have made new financial and political commitments to the GPEI Strategy. Said strategy foresees a sustainable eradication of polio by 2026.  In total, global leaders committed USD 2.54 billion, with the Federal Republic of Germany pledging a significant EUR 72 million for 2022 and 2023. These funds will support global efforts to overcome the final hurdles to polio eradication, vaccinate 370 million children annually over the next five years and continue disease surveillance across 50 countries. As long as the virus still exists somewhere in the world, it can spread. Nobody is safe, until everyone is safe.
APCO has been a long-time partner in supporting Rotary International's advocacy activities in Germany, Brussels, and Canada. To date, the topic of polio eradication has been made prominent on the political agenda, while Rotary International and the GPEI partners have become trusted advisors to policy stakeholders in Germany, where frequent exchanges mark key advocacy efforts.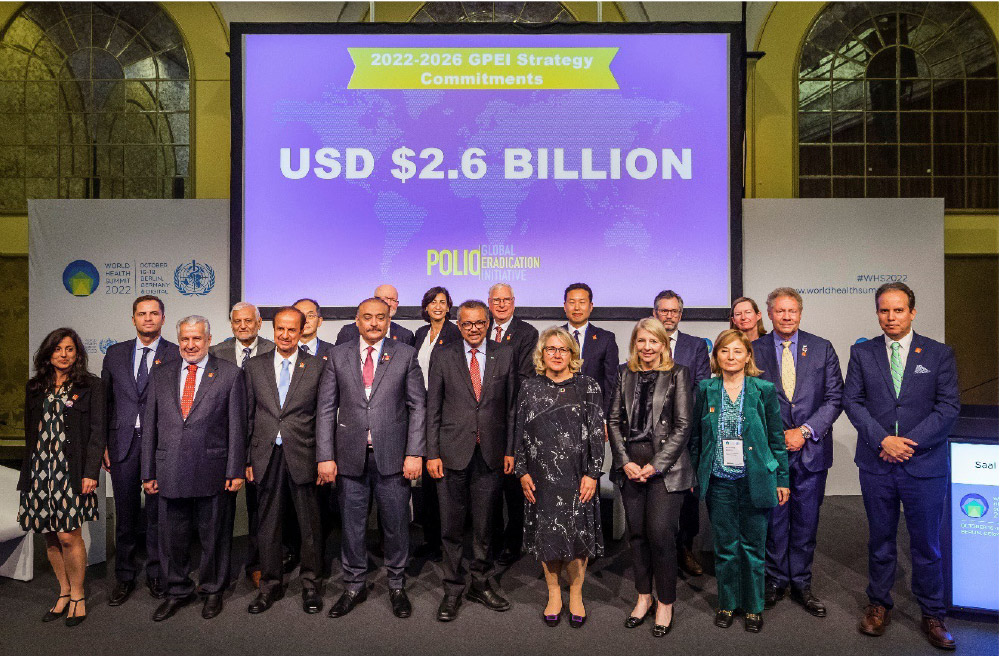 The success of Rotary International's advocacy campaign holds valuable lessons for all stakeholders interested in driving global health within a tightly knit environment that brings together policy and civil experts from economic collaboration, development, health and geopolitics.
Lessons-Learned
Global Health is gaining momentum. By now, everyone has recognized that the topic of global health is indispensable. With initiatives such as the Global Health Strategy, the One Health Strategy, the One Health Action Plan, the Global Action Plan and the G7 Pact for Pandemic Readiness, Germany remains a pioneer in the field and has proven during its G7 presidency that it can also present the topic on an international stage.
Partnerships are essential. Bundling resources with fellow GPEI-partners, scientific organizations, and civil society and organizing joint appearances has assisted in building regular rapport with key decision-makers.
Know your client´s value-add for global health. Likewise, staying atop key issues on the global health agenda and continuously aligning the advantages of the Polio Program and its infrastructure for global health to current political, economic, social, or humanitarian developments to facilitate conversations and raise awareness has proven critical.
Timing is key. Lastly, becoming acquainted with the inner workings of policy making and the federal decision-making structures and timings has helped empower client's frontrunners and partners to raise their voice at the right time.