Innovate Finance Global Summit 2022 – a Week on…
The United Kingdom is prolific in emphasising its "soft power" on the world stage, with varying levels of accuracy and varying levels of success. One area where it is a legitimate heavyweight, however, is within its bustling financial services industry, which contributed £164.8 billion to the UK economy in 2020 (GOV.UK)—a whopping 8.6% of total economic output.
At this year's Innovate Finance Global Summit, exhibitors, speakers and punters alike witnessed a modern, high-growth and disruptive sector assume centre stage within the dizzying corridors of the historic City of London's Guildhall.
It was Innovate Finance's CEO, Janine Hirt, that set the tone for two days of high tech, fireside chats and frenetic networking. Focusing on three core macro issues—climate change, the Russia-Ukraine war, and rises to the cost of living felt throughout Europe, but acutely within the UK—Hirt presented fintech as the differential across each thematic vertical.
Technology's potential as an enabler of financial health, wealth and inclusivity initially felt vaunty, but the sector acknowledges now that improprieties of old won't cut it in the modern world. Tech Nation, a UK network for ambitious tech entrepreneurs, were keen to note that "mindfulness at the corporate level is the highest it's ever been".
For Sarah Levy, CEO at Betterment, an American financial advisory company, socially responsible investment is the key, with the firm holding $30 billion worth of ethical assets under management. Businesses are being pushed to change from the ground up, with venture capital rendering lethargic government legislation secondary in realising progressive outcomes. Indeed, Anne Boden, CEO at Starling Bank, argued that, within 5-10 years, a new group of fintechs will raise standards even higher than the current circle of challengers. Within the fintech world, innovation is seen as the core driver of positive transformation for all stakeholders, from consumer to incumbent banks and governments.
It is within this context that the UK government made its address, as John Glen MP, Economic Secretary to the Treasury, strode to the stage in place of an absent Chancellor.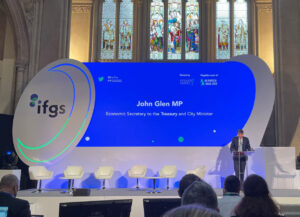 The government initially pushed many of the same thematics that had been laced throughout Day 1 at the Innovate Finance Global Summit—that of technology and government's parallel roles in sanctions enforcement, tax transparency and addressing climate change. Much like the UK's recent Online Safety Bill, the government aims to appear nimble and capable of "moving with the times".
The news that so-called "stablecoins"—or cryptocurrencies that peg their market value to "real life stuff"—would be brought into the financial system caught headlines, however it was its promotion alongside the potential of Web 3.0, and blockchain technology more broadly, that caught the eye. Could this be indicative of the UK government's aim to legitimise the infrastructure for its own central bank digital currency (CBDC), and with it opening the potential for targeted aid delivered to NGOs and war-torn regions the world over?
Perhaps this is too high concept a consideration for an announcement that also included the Royal Mint's own NFT "as a sign of support" for the crypto industry. This seems to have been a blunder, as coverage in media and on social media of the government's NFT Easter egg overshadowed the policy within Glen's address.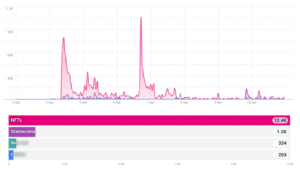 Nevertheless, the announcement had created a buzz, and conversations thereafter looked at how these nascent financial instruments and technologies might be applied to address contemporary issues.
These were not without caution, as experts on Day 2 raised the government's potential to overregulate the decentralised finance industry to protect the public from the promotion of "cowboy coins"—a concern shared within the buy-now-pay-later industry, with representatives from Klarna and Affirm urging that consumer protection must not become a hinderance to consumer choice.
This dichotomy was illuminated further by the Financial Conduct Authority itself, who announced that they would increase protections for consumers, while simultaneously urging solutions to conduct financial exclusion. In response, it was notable that Google Cloud highlighted their efforts to use their expertise to help the 1.3 million adults in the UK who remain unbanked.
Once again, we returned to theme of technology as a key driver of social equity. This was the overarching theme of the final fireside chat of the conference, in which Sophia Bantanidis, Head of Strategy & Policy within Citi's Innovation Lab, looked at the prospect of the metaverse as the next frontier in addressing inequalities within the real world, within which finance would be integral.
Notwithstanding the myriad legal issues raised – ranging from online safety, data privacy and cybersecurity—Sophia's arguments that extended reality could act as an experiential enabler for the disabled and communities, and realiser of several further practical applications, were compelling. What tied this session to the rest of 2-day forum was the profound potential of the metaverse's infrastructure—including digital currencies, accountable blockchain technology and incumbent fintechs operating as "off-ramps" for real-life monetisation—to help service real world consumers, businesses and economies.
Reducing small business overheads while enhancing consumer choice; addressing supply chain sustainability and fast fashion "return culture"; helping architects and engineers build and rebuild urban centres that are fit for the future. All of these possibilities were in focus as 2022's Innovate Finance Global Summit came to its close.
Dramatically reducing the climate impact of these technologies must be the clear next step, but the verbal narrative amongst the UK financial community was one of ambition and embracement of change. The onus is now on governing bodies and regulators to build an ecosystem that helps the next generation of disruptive companies realise their potential to address societal harms for the long-term, rather than for the short-term.