How Companies can Navigate the Latest in the US-China Trade Situation
With last week's tweets from President Trump "ordering" companies to begin looking for alternatives to manufacturing in China, and then following up by stating he has the authority to do it under the Emergency Economic Powers Act of 1977, many questions and concerns remain for business leaders.
While companies should treat this and the overall situation between the United States and China seriously, it would be wrong to overreact.
The situation can be seen as another stop along the way in a series of contentious trade "moments" with a president who ran on getting better deals for the American people. It can be seen as an "Art of the Deal" level of brinksmanship that many are not used to seeing from a U.S. president.
Candidate Donald Trump made getting better deals for voters a key campaign promise, and yet the rhetoric seemed antithetical to traditional free market conservatives and surprised many on the left who did not expect that stance from the GOP nominee.
To put in perspective how the tough-on-trading-partners stance has played out, a quick review is below. The Trump administration has already taken a series of actions that have led to a new level of engagement and some new agreements:
The United States pulled out of the Trans-Pacific Partnership.
The administration put a spotlight on NAFTA and negotiated the U.S.-Mexico-Canada Agreement, a new and broadly supported trade deal with Canada and Mexico. It awaits congressional approval, and, in the meantime, NAFTA is still in place.
On Sunday, it was announced the United States and Japan have a new trade deal in principle that would lead to greater U.S. farm exports to Japan.
Of course, the on-going battle of wills with China that started with tough talk, moved to tariffs, a blend of conciliatory and tough talk over a period of weeks and months, and now leading to a tweet stating that U.S. companies should shift manufacturing out of China.
For perspective, during the 2016 campaign and the early weeks and months of the administration, there was great worry from corporate leaders and their representatives about the negative impact of denigrating and even walking away from NAFTA. Fast forward to today, and one finds key business leaders and their organizations touting NAFTA's replacement: the USMCA.
From the National Association of Manufacturers and the U.S. Chamber, to groups representing other specific industries, such as energy and agriculture, the USMCA receives broad support from a variety of interest groups. In the healthcare sector, both major associations representing pharmaceutical and technology innovators, AdvaMed* and PhRMA, are proponents of the new trade pact. In fact, PhRMA had this to say:
"The USMCA's provisions prioritize innovation and competition and do not increase medicine costs, despite what a few loud critics have said. PhRMA is committed to working with policymakers on both sides of the aisle to ratify the USMCA and push for solutions that will improve patient access and affordability."
Will this continue into the foreseeable future? While current tensions with China have led to concerns and stock market volatility, there is much speculation that this might be continuing without end. Yet, if one views this from the lens of it being a negotiating tactic then one sees a deal more likely. And with the 2020 election a little over a year away, it is unlikely that this level of heightened tensions will last up to Election Day and more likely that it will be resolved before the Convention and the homestretch of the Fall 2020 campaign. While some predict an on-going or worsening "trade war" the more likely scenario is some sort of deal or at least a "détente" over the next several months, or in early 2020. 
Looking forward, companies should do four things:
Continue to follow the situation very closely and be ready to communicate their value and speak factually about the company's footprint. If a company is currently in multiple countries including the United States, it's important to be prepared to communicate those facts.
Don't be rash but continue to always evaluate how to best serve its consumer markets, including the Unites States, and find the right mix of U.S.-based and non-U.S.-based manufacturing.
Stay connected to their respective industry group, and key leaders on Capitol Hill, who know the company best and work with trade association and/or executive branch officials, such as the Department of Commerce.
Additionally, as many companies are manufacturing around the world, including both in the United States and China, it would be wise to highlight the important work being done in the United States to hire workers and provide training and re-training opportunities for existing workers. Companies should explore taking the administration's Pledge to America's Workers. Companies of all sizes and their associations have taken the pledge and many of those companies are multinational with global manufacturing sites, including in the United States and China.
The job of any U.S. administration is to look for ways to help U.S.-based businesses with new opportunities, let others know the United States is open for business and encourage U.S.-based operations. The Department of Commerce is well known for their "open for business" programs, but there are scores of programs throughout the government seeking private sectors partners: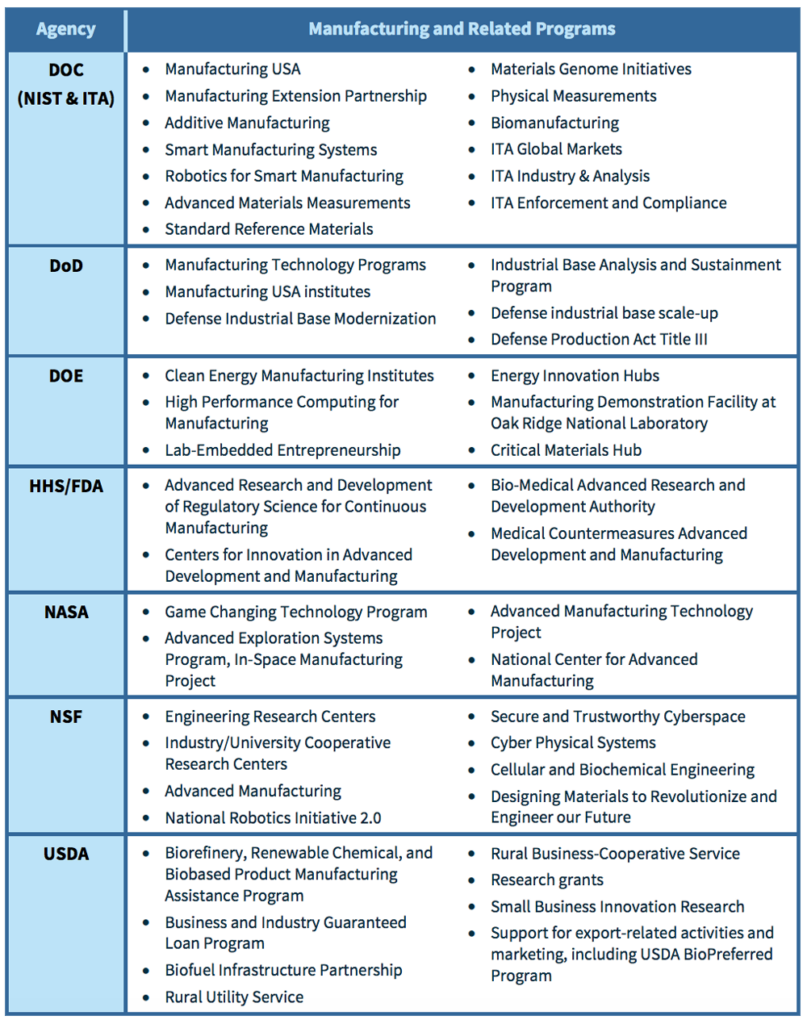 These programs are all over government from the Investing in Manufacturing Communities Partnership (IMCP) and Manufacturing USA at the Department of Commerce to the Clean Energy Manufacturing Institutes at the Department of Energy to the Biorefinery, Renewable Chemical, and Biobased Product Manufacturing Assistance Program at the Department of Agriculture.
Given the latest developments in the U.S.-China trade tensions, it's critical for corporate leaders to stay informed and be prepared to act. Companies that develop communications and public affairs strategies to demonstrate the positive impact they are making in the United States are setting themselves up for success in this ever-changing trade landscape.
*APCO client