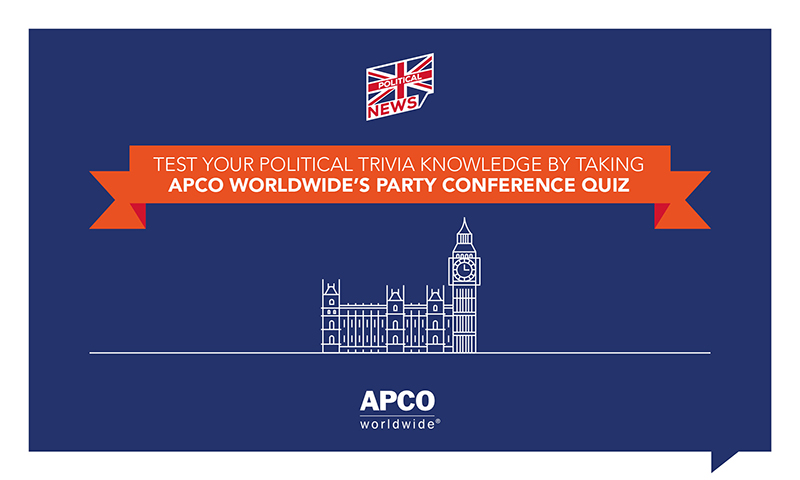 UK Party Conference Quiz, 2021
It's been yet *another* truly momentous (and unusual) year in British politics since our last Party Conference Quiz, with this year's conference season back to something resembling 'normal'! This year, as you reacquaint yourself with life outside your home office and the best conference centres the UK has to offer, will you be able to recognise members of the new Cabinet, fashion icons born of the Zoom-based Parliament, and the shortest-lived party leader of the year? Try APCO Worldwide's quick quiz to test your political knowledge!
Rules
The closing date for this quiz is 10am GMT on Tuesday, 05 October. You will see there is a tie-break question at the end of the quiz but, if we still end up with a draw, the top-scoring entries will be entered into a hat and the winner will be pulled at random. The winner will receive a magnum of champagne and a copy of a political book of their choice (UK delivery only). The winner will be notified by email. Email address is compulsory. This quiz is limited to one entry per person. We will not share your data with any third party.
About APCO Worldwide
Named both Global and EMEA Public Affairs Consultancy of the Year, 2018 by The Holmes Report, APCO Worldwide's UK team has a strong heritage in public affairs and a proven record of success leading integrated communications campaigns to achieve client's policy objectives.