The Evolving Media Ecosystem
The traditional media industry is in a state of upheaval. Each week, we hear of more lay-offs, more cuts to budgets and more local papers shuttering. And, with the increasing references to "fake news" that spreads the tendrils of disinformation campaigns around the world, trust in the media has faltered. The state of media and media relations is no longer as we once knew it. Yet, in this time of crisis, there is opportunity through invention. To best counsel clients, as practitioners, we must not only keep abreast of new developments but understand how the evolving media landscape will affect our clients' stories.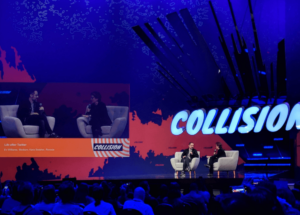 The media brands making the most strident moves forward are strategically seeking out new readers or viewers and new avenues for revenue beyond traditional print or digital ads and subscriptions. Following a number of fascinating talks at the recent Collision Conference in Toronto, there is a new focus on a three-pronged approach:
1. Leading the charge with high-quality, in-depth, well-reported content.
High-quality content is the best sword to fight the trolls claiming "fake news" because it puts the publication's commitment to investigative journalism and fact-based, researched reporting front and center. Anyone can scream loudly into the wind with a false claim, but the outlets that stick to well-reported stories will rise above the mayhem. Plus, news outlets can't continue to play "whack-a-mole," trying to discredit each piece of fake news; rather, pushing out stronger, pressure-tested stories will be needed to defeat disinformation.
The effect on clients is that staff reporters are covering less "fluff" and are more diligent when deciding to take on stories that they can either dive deeply into or that have a major effect on society at large. That said, this frees up contributors and freelancers to cover more straightforward announcements or softer news to produce the higher volume of stories needed for digital reader consumption.
2. Expanding across new channels and formats for either new content or to amplify traditional storytelling.
Higher quality journalism in new forms, such as video and audio (e.g., podcasts, radio), allows news outlets to engage viewers and listeners on subjects they're deeply interested in and at places they're already spending time. Through these new forms, outlets can either create brand new shows and content—e.g., new, dedicated podcasts on a particular subject—or use the channels to amplify existing content—the New York Times' "The Daily" podcast goes deep into one online or print story each day, and its Friday e-newsletter highlights the making of one of the week's top stories. This type of storytelling helps dedicated readers dive deeper into the Times' reporting and highlights the paper's dedication to rigorous reporting standards and truth-telling.
News outlets also are competing for consumers' attention with the likes of major entertainment media, such as Netflix, Hulu and Spotify. These outlets are churning out high quality content, so media partners must decide to either compete or partner with them. For example, Vox Media has partnered with Hulu to leverage its Eater brand and Vox Media Studios to create new cooking programming with the likes of Chrissy Teigen and David Chang (of Momofuku). Vox is channel agnostic, as it also previously cut a deal with Netflix to host its "Explained" series—15-minute episodes focused on a specific subject that impacts viewers' lives. Vox has also launched a number of series and playlists across topics on YouTube and through podcasts.
3. Diversifying the traditional business model beyond subscriptions and advertising.
The smartest media brands are going a step past just new reporting content and creating a diversified business model with multiple avenues. These brands have stepped into syndication and distribution of their content, partnerships with other media brands and events as well as creating and licensing their own proprietary technology. Vox Media created its own content management system (CMS) called Chorus, which it is licensing to other platforms to not only share knowledge with less well-funded outlets, but to also establish a new revenue stream. PopSugar created some of the largest online fitness communities, including Class FitSugar and Glow, online fitness retail stores with DVDs/videos, apparel and accessories. Media brands like the Wall Street Journal, the New York Times, FORTUNE, Forbes, and the Economist have all created "must-attend," high-end yearly events.
All of this said, outlets are still moving back to the subscription and paywall models of yesterday, starting with a trickle over the past 12-18 months and a proliferation expected by the year's end. This will impact clients in a variety of ways, including that stories about them will be seen by fewer, but more dedicated readers. For agencies, monitoring will become a much more expensive beast to wrangle.
Overall, subscriptions will continue to pop up for the highest quality content; expect new partnerships between media brands and finally, a multitude of avenues to tell a brand's story.