Developing Future Generations Through Diversity & Inclusion
As communications professionals, we talk a lot about targeting and reaching the "next generation" while instilling diversity and inclusion through various communication mediums. We talk about strategies that will invoke a sense of brand purpose that all ethnicities of the millennial, gen Z and future generations can relate to. But before we get there, it's imperative that we up-level the conversation to discuss the make up of the communications professionals powering these efforts.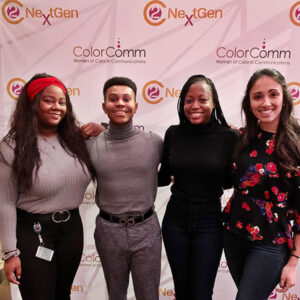 The communications field has undergone dramatic changes in the last decade, however a lack of diversity in the profession persists across all employee levels. As a result of this reality, and the lack of networking opportunities dedicated to persons of color (POC), ColorComm was created. ColorComm is a membership organization for women (and men) of color to connect in order build a network of leaders through mentorship, business relationships and friendships. Career pathways for POCs require company prioritization and aligned values, explicit entry-level opportunities and senior management buy-in.
Earlier this year, APCO partnered with ColorComm to give five employees a year-long membership to offer specific professional development opportunities for selected employees, while simultaneously increasing the company's pipeline of diverse candidates.
Last week, four APCO ColorComm members attended the ColorComm NextGen Conference in New York, a platform providing a voice for young leaders making a difference both inside and outside of the office. Employees heard from a mix of speakers and panelists on topics ranging from enhancing diversity in tech and strengthening financial literacy for younger generations to emerging communications strategies and driving workplace cultural change. Below, the four APCO employees share their top key takeaways from the conference:
Dominique Scott, APCO Alumna
As a woman of color, a communications professional and a member of APCO's Diversity & Inclusion Council,  I'm consistently searching for professional development opportunities to further my career and personal knowledge, but also for ways APCO can continuously improve as a company both for its stakeholders and its employees. My top takeaways are:
D&I has gone from being a matter of social impact and justice, to being recognized as an impactful business objective. Doing well as a business and doing good as a company are not mutually exclusive. Companies must have a business strategy that includes D&I objectives that work for today and build for tomorrow.
As the D&I conversation continues to evolve in corporate America, diversity fatigue is possible. But businesses can avoid diversity fatigue by speaking with people, rather than talking at them.
Hiring persons of color in order to meet a target number is not an effective or legitimate business strategy to achieve meaningful diversity and inclusion goals within a company.
Imara Bright-Johnson, Project Consultant, Chicago
Working in the field of communications, especially for women of color, can be a difficult—yet rewarding—career path. While attending ColorComm's NextGen conference, I was able to soak up some well-needed advice and hear from women leaders, many of whom are women of color from all over the country that work in different facets of communications.
My favorite portion of the day was a panel titled "Got What It Takes?" My top takeaways from the discussion included:
Don't be afraid to ask for help.
Be rooted in the conviction of your dreams.
Not all advice is good advice.
Don't wait for permission – open up doors for yourself.
Go for it, but always be intentional!
Drake Brown, APCO Alumnus
Mobile strategies win. From news to sports and everything in between, millennials have revolutionized the way we consume information. In this day and age, digital marketing communications practitioners have realized this and are continuing to implement mobile-first advertising strategies (typically by way of social media or digital banner ads) to reach their desired audience. But this mobile-first approach is evolving, and quickly.
Bonin Bough, American author and former C-Suite executive for some of the world's largest CPG brands, masterfully contextualized why the destination for the future of mobile advertising could be where people communicate most – their text message inbox. Social media companies work tirelessly to provide the best adverting platforms for brands to utilize. However emerging companies are working to monetize your texting experience. So, the next time an airline texts you your itinerary, your favorite restaurant will make sure to let you know that there's a discount on sandwiches at your terminal.
Mobile strategies win, people! Stay tuned, an evolution of digital marketing and advertising is more than likely to be on its way!
Nicole Hamilton, APCO Alumna
Hearing from women leaders in both the communications and financial fields at ColorComm's NextGen conference provided valuable insights for professionals at every stage of their careers. Personal finance is a category that many young professionals today shy away from, but Ellevest founder Sallie Krawcheck reminded us that taking charge of one's finances is a key component of building the life and future you want.
My top financial and general takeaways are as follows:
Don't wait for someone else to open the door for opportunity, create your own door and use the people around you as resources.
Think about how others learn best, then put yourself in their shoes and play off of those strengths for both clients and peers.
Divide your expenses into categories of 50-30-20

50 percent of your check goes to needs (rent, utilities, food).
30 percent goes to fun because life is short and it's the little things that make the biggest difference
20 percent goes to future you. Look out for your older self.

Financial language is gender coded, think "don't buy that latte" instead of "don't buy that craft beer." Learn to see through the bias within the system.
Invest now, invest smart, it's never too late to start.