What's on the Leadership Agenda for 2020 and Beyond?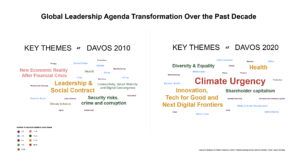 From corporate boardrooms to headquarters of multilateral organizations and NGOs to government offices, what are the top priority issues on the global agenda at the start of a new decade?
World Economic Forum's (WEF) Annual January Davos Meeting is a bellwether and a mirror to many global priority issues. The Forum is one of the longest standing multi-stakeholder platform organizations, convening global leaders for the past 50 years. The official (and many unofficial) meetings and conversations that took place in Davos Congress Center corridors were a precursor to major historic moments – from the end of Apartheid in South Africa, the birth of G-20, and the launch of major development initiatives from GAVI to Red and many more. Having attended Davos for the past fifteen years, I was particularly curious how this year's official program would reflect global leadership priorities and how the pressing topics for 2020 would compare to those discussed at the start of the last decade.
Climate change is the prevailing global risk
Judging from the Davos 2010 agenda, at the start of the decade, our world was plagued by security risks: crime, violent conflict, corruption and more. A significant part of the program was dedicated to tackling these issues.
These dwarf in comparison to climate change today. Climate change and the environment are by far the most dominant topics in the official WEF Congress Center Program. From nearly 250 official sessions, almost 20% of the program is dedicated to related issues: nature conservation and biodiversity, oceans, addressing air pollution and water scarcity, plastics, new carbon economy, and the need for decisive political action and mobilization around the Green New Deal.
Last year, our world has finally woken up to climate change and its importance, in part due to youth leadership and mobilization from student strikes around the world, and watching the Amazon forest on fire from our living rooms and cellphone screens. Climate Urgency is in the corner offices and on the streets. The Forum has really tried to push the envelope this year and convey the dire sense of urgency. More than half of the climate focused sessions don't shy away from calling out the problems: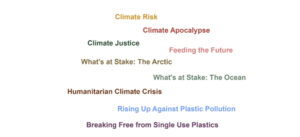 Innovation, Tech for Good, and Next Digital Frontiers
Today, technology dominates the Davos agenda more than all the other industry sectors combined. The Forum has also gone a long way from framing "Tech for Good" in only one session back in 2010, to having over 10% of the program this year explicitly focused on the tech panacea. There has been a concerted effort to shift the discussion on technology as "next fad / hottest new unicorn" to tech as a tool for solving key issues across industries and challenges. This includes human rights in tech design, blockchain for good, responsible data economics, solving for transport poverty, modern slavery, unlocking public-sector AI and much more. A session that perhaps illustrates this the most (and one I am particularly looking forward to) is the discussion with Bill Gates on "How Fix a Broken Market":
"From sources of clean energy to vaccines against life-threatening and devastating diseases, scientific and technological breakthroughs can solve some of society's most intractable problems but often fail to reach those who are in greatest need."
A Robust Health Agenda

The focus on health evolved significantly from a handful of discussions focused on chronic disease, to a robust program with more than two dozen sessions on future of diagnostics, aging and Alzheimer's, addiction, cancer treatment, rare diseases, smarter disease interception, personalized medicine, and importantly – nearly half of these sessions touch a very acute global issue of the day: mental health.

Diversity and Equality – Finally Front and Center
Shockingly (or in a way that reflected the global reality in the not-such-distant-past), in addition to single-digit female participation, ten years ago there was only one session in Davos dedicated to women, with a rather patronizing description:
"How can educating and empowering girls and women radically impact six acute challenges facing the world?"
Thankfully our world and the Davos agenda have evolved significantly over the past decade – in the era of #MeToo and a significant push for equality beyond just gender. This year, there are over a dozen sessions focused on the broadest conversation about diversity, inclusion, and equality – from disability to LGBTQ to social mobility, tackling racial bias, pay gaps, and partnering against sexual harassment. Fittingly, the main topic that Melinda Gates will be championing this year in Davos is the 50-50 Gender Parity.
Business Role in Society, Social Contract and Purpose
Interestingly, this topic has been a consistent force on the WEF Agenda. Its founder, Professor Schwab, would say that WEF's focus since its inception in 1971 has been on a broader definition of the stakeholder world and leaders' responsibility. A decade ago, as WEF convened its 40th session, the world was in the midst of recovering from the global financial crisis. Almost every other session had "leadership" in its title, preceded by a different adjective – "global"/"mindful"/"inclusive" and the like. The other predominant majority of sessions focused on risk in all its forms – to investors, to industry, to boards, and to society at large. Leaders who participated in Davos ten years ago may not have applied these leadership lessons – this past decade we have seen that inequality has been exacerbated, with populism and protectionism on the rise and a general backlash to globalization. While not as prevalent as climate, health or technology, the topic of shareholder capitalism also appears throughout the agenda this year, reflecting increased expectations for businesses and a hyper-engaged new generation that demands action.
The changing agenda of Davos reflects in many ways the societal winds and global priorities. The Forum has built an effective platform to raise awareness of critical issues and bring together decision-makers to learn from one another, share perspectives, and—occasionally—be challenged and pushed for action.
Today, business leaders have a particularly significant role, fueled not only by societal expectations for action, but also by the retreat of many governments from multilateralism and collaboration. The ones who will stand out will be those with a clearly articulated corporate purpose and commitment to addressing critical global issues, from equality to climate change, through new collaboration mechanisms and non-traditional partnerships.