Keio University Advocacy Campaigning Lecture Recap
As a leading global company in public affairs and strategic communication, APCO's Tokyo office had the opportunity to hold a lecture on advocacy campaigning with a class of international and Japanese students at Keio University, Shonan-Fujisawa Campus.
Public affairs refers to a broad range of activities for private companies and other organizations to build, develop and effectively leverage relations with political decision makers. The concept has been introduced relatively recently in Japan, where there has been a long-standing tradition of close connection between the government and large domestic companies, a relationship that drove postwar economic development.
The lecture was coordinated by Dr. Miki Akiyama, professor at the Graduate School of Media and Governance at Keio University, who is a leading proponent of public affairs in Japan while also serving as a public affairs decision maker in the healthcare sector as a member of the Central Social Insurance Medical Council. Now in its second year, the lecture was a joint effort to spread the concept and importance of public affairs. It included a brief explanation on the general model of advocacy (see below), followed by two workshop sessions based on adaptations of past APCO client cases to demonstrate how the model can be applied in the real world. In spite of its virtual format due to the on-going pandemic, the lecture was highly interactive and ended with creative and enthusiastic presentations by the students.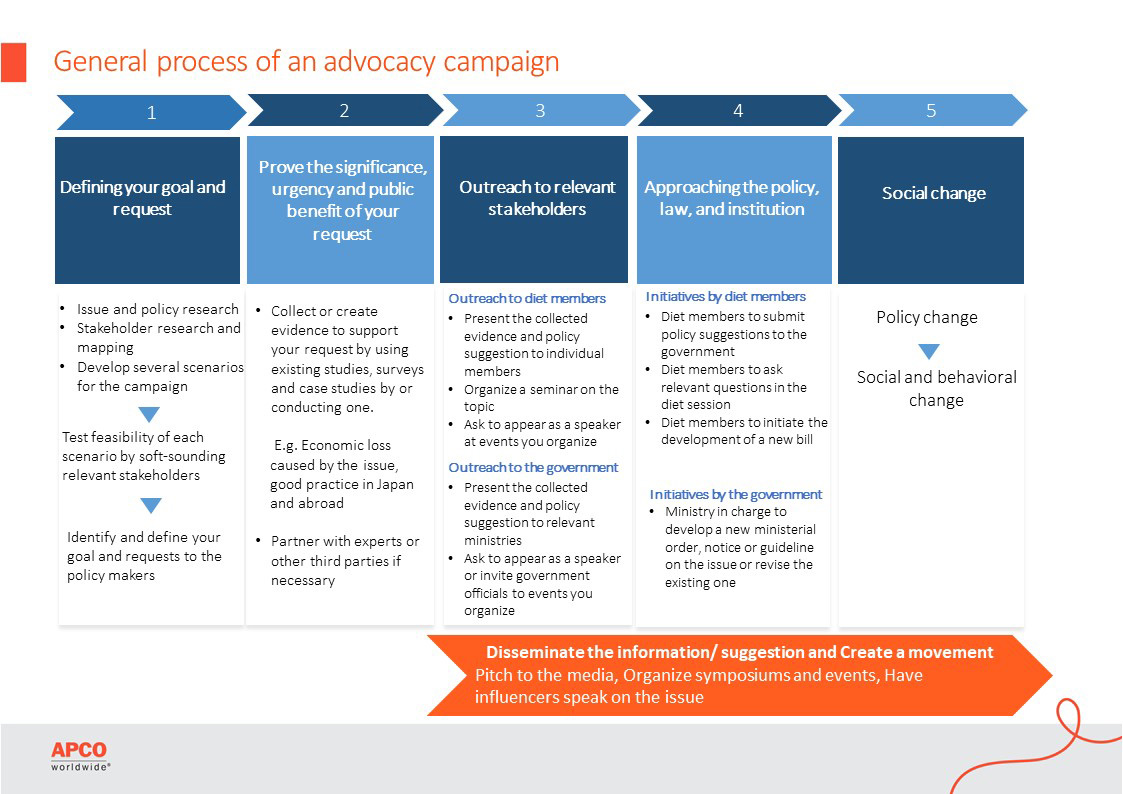 We thank Dr. Akiyama and the students who participated in the the lecture for the engaging conversation, and share this post as a convenient link to some of the resources we discussed.
Many of APCO's offices around the world offer internships to college students, graduate students and recent college graduates, providing valuable exposure to the firm's operations and service areas. While our North America internship program has been paused, we are proud founding  in the PR Council's Agency Ready Certification program. Learn more about APCO Worldwide's career and internship opportunities available here: /about/careers/jobs/.