How Brussels is Managing AI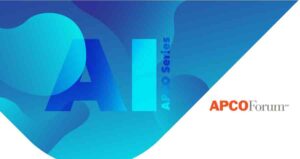 On 24 June, we kicked off our AI APCO Forum series of events in Brussels, exploring the impact of artificial intelligence across a range of sectors – and how Europe should act.
With the launch of its strategy on artificial intelligence (AI) in April 2018, the European Commission took a bold step to ensure Europe remains at the forefront of the 4th Industrial Revolution. And, in deciding to give a voice to experts from the industry, the academia, public authorities and the civil society as part of its High-Level Expert Group on AI (HLEG AI), it made it a stakeholder-driven process.
The AI APCO series is a contribution to this ambition of collectively addressing the most pressing challenges in AI policy: how to build up Europe's capabilities in AI innovation, accordingly update its regulatory framework, and ensure trust?
In our first session, participants discussed the opportunities, priorities and conditions for a thriving AI-powered industry in Europe. We had the chance to welcome Dana Eleftheriadou (European Commission), Mark Lange (Microsoft), Christoph Luykx (Orgalim—Europe's Technology Industries) and Johannes Nitschke (Siemens), in a conversation moderated by Eline Chivot (Center for Data Innovation).
Our speakers resolutely set a positive tone to the conversation: manufacturing is where Europe has the most chances to sustain a global competitive edge—AI is already extensively utilised by the industry, yielding results. Siemens is currently working on 192 various AI-related projects, while many of the small businesses that Orgalim represents have already made that leap. To move ahead, however, a real cultural shift is needed, as Mark pointed out: adopting AI is very much a "cultural transformation" beyond just the necessary technical hand-on skills.
The European Commission has been accompanying this transformation, with the AI strategy serving as a catalyst and an accelerator to these projects. With its report on a Vision for Industry 2030, the Commission has been drawing, with industry stakeholders, a holistic perspective on how to empower industry, looking at it not just not just economically but also socially and in an environmentally sustainable way. The Commission has also focused its efforts into identifying the needed future skills in specific sectors and making sure the EU legal liability framework remains up-to-date, with upcoming guidance on how to apply the product liability directive to "smart products." Incentivizing data sharing, a key building block for AI, is also a priority.
The start of the new Commission mandate this year, just as the HLEG published its recommendations on AI policy, is a fantastic opportunity to sustain this dynamic and drive AI adoption in Europe. All sectors are already transforming, with spectacular use-cases in areas such as healthcare, transports, finance services, consumer products and online platforms—or strategic communications, where we, as a business, are exploring AI applications with our AI Comms Lab.
Over the next few months, we'll continue to bring stakeholders together and delve into the specifics of AI policy in these vertical industries. Stay tuned!