Davos 2017 Takeaways – Business Recoded?
Attending the World Economic Forum's Annual Davos meeting for the past ten years provides one a fascinating comparative perspective on the evolution of key global issues and the rise and demise of corporate and public sector leaders.  But most importantly, it puts in perspective the recent geopolitical changes and their implications on our society at large.
Could we have foreseen it back in 2016?
Looking back at my takeaways from last year's Davos, the central themes focused around technological breakthroughs and innovation – the Fourth Industrial Revolution – as coined by WEF's founder, Professor Klaus Schwab. The topic of refugees and involuntary migration was central on the agenda, there was a consistent grumble around gender parity numbers (both in Davos and in corporate boardrooms), and there were few "prophets of doom" that voiced concerns about our system and where it was going. MIT's Andy McAffee made a sobering assessment that "we are doing a great job today with education – training the workforce for 50 years ago," while Nouriel Roubini pointed out that given the capital-intensive, skills-biased and labor-saving nature of tech innovation, it is bound to increase income and wealth inequality. In private conversations on the sidelines there were some interesting parallels drawn between the Bernie Sanders and Donald Trump campaigns and the clouds of populism gathering above Europe.
It is important to go back and look at what preceded the unprecedented events of this year and a distinctly different Davos 2017 gathering:
The end of liberal order?
That was the title of the first session I attended on a cold Tuesday morning opening the week at Davos. It was one of several several sessions that questioned – instead of celebrating – globalization, its prospects and the future of liberal democracy. Hosted jointly by the Financial Times and Citibank, the panelists included Gideon Rachman, FT's chief foreign affairs commentator, Citi's chief economist Willem Buiter, Harvard University's Ken Rogoff, Peking University's Justin Yifu Lin and Citi's chief political analyst, Tina Fordham. Rachman gave a rather somber opening, asserting that it was not inconceivable for us to witness a war between the United States and China that would be brought by trade tensions and the Trump administration's miscalculation of China's red lines. Buiter described the four common conditions in currently stable liberal democracies (Japan, Australia, New Zealand and Canada) that 1) enjoyed high social mobility, 2) low income inequality, 3) were not in a midst of an incoming migration wave and 4) having not been severely affected by the 2008 financial crisis. Fordham proclaimed that the vox populi risk was no longer confined to emerging markets, while Rogoff said that he was more worried about the future of U.S. democratic institutions than he was about sluggish economic growth. The panelists placed Trump's Twitter handle as the biggest political risk for corporations in 2017, speculating who he was going to bring down next. In looking back at the U.S. elections outcome, they asserted that "Trump was elected because he focused on issues that mattered, while still getting all the answers wrong and that what alienated Hillary Clinton was her focus on the poor, rather than the working class."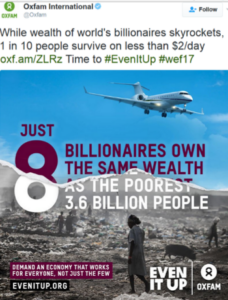 There were interesting side conversations about the root causes of recent geopolitical earthquakes that brought forward Brexit in the UK andTrump in the United States, characterized by populism, anti-trade and isolationist agendas. Inequality was cited time and again as a leading cause for globalization backlash, particularly underscored by Oxfam's damning report that eight of the world's billionaires (some in attendance in Davos) own as much as the poorest 3.6 billion people.
Christine Lagarde, managing director of the IMF reminded the participants of her 2013 warning against the dangers of inequality, though I am not sure this time around it fell on more receptive ears. I came away with a stronger realization that the rift was more fundamental than income inequality and that all too often the focus on economic growth/GDP indicators neglects the soft indicators like culture and identity erosion. The Economist ran a special edition on Life Long Learning the week of Davos which reminded us that the Industrial Revolution brought forth state-funded universal schooling, a meaningful response to a radically changing environment. Something of similar magnitude is missing today. Another solution that got traction in the Davos discussions was basic income, the notion that we are all contributing to society, and therefore deserve a fair share of its wealth. Alphabet's Sergey Brin asserted that rather than creating an underclass of jobless idlers, automation might instead free us up to do things that create more purpose in our lives. "If the burdens of day-to-day life are deleted through technology, maybe that leaves us free to think more deeply about what we do."
Surprising champions for globalization
President Xi Jinping delivered a historic opening speech in Davos that was peppered with western symbolism and metaphors, including paraphrasing Charles Dickens' Tale of Two Cities and Abraham Lincoln's Gettysburg Address and defending globalization. "It is true that economic globalization has created new problems. But this is no justification to write off economic globalization altogether. Rather, we should adapt to and guide globalization, cushion its negative impact and deliver its benefits to all countries and all nations" he said. "We should commit ourselves to growing an open global economy" he added. "No one will emerge as the winner in a trade war." He ended, surprisingly, quoting Red Cross Founder Henry Dunant: "Our real enemy is not the neighboring country; it is hunger, poverty, ignorance, superstition and prejudice." We need to have the vision to dissect these problems; more importantly, we need to have the courage to take actions to address them." Axios, a new news company founded by ex-Politico executives, ran a comparison between President Xi's Davos and President Trump's Inaugural Address, reaching the conclusion that the two could not have been more divergent in their rhetoric in favor/against globalization.
Business recoded: responsible leadership in a digital age
Tech executives found themselves on the defensive for the first time in Davos. While in the past few years there has been much admiration and celebration of innovative tech solutions on display in the Congress Center and back in Silicon Valley, this year, artificial intelligence, autonomous cars and "rise of the robots" dominated the discussion about the consequences for humans that are caught on the wrong side of the technological progress. Salesforce's CEO Marc Bennioff spoke of digital refugees that could be created by AI and technology and the fact that there was no clear path forward to address this phenomena. Karen Fawcett, CEO of Standard Chartered Retail Banking, issued a telling prediction: "your job will not dwindle away, it will disappear instantly".
MIT's Andy McAffee had somewhat more of an optimistic view. Innovation, in his words, is both the technological advancements, as well as the life-long learning and education – where both industry and government support is needed. He frequently quotes research that focuses on the "Digital Provide," rather than the Digital Divide, that is helping reduce poverty and increase welfare across developing economies.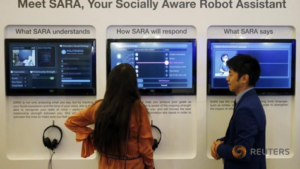 Some of the more practical policy insights came from Navdeep Bains, whose title – Minister of Innovation, Science and Economic Development – was quite telling in how Canadian government was adapting to the future. He said that the inevitable will happen; we just have to have the best regulatory framework to support it, communicating innovation in a way that connects with people. He also firmly stated that there had to be a renewal of the middle class bargain and a social safety net and that this was the platform Prime Minister Trudeau campaigned on and won. Specific policies that were adopted in Canada focus on 1) increasing childcare benefits, 2) strengthening of the pension systems, 3) ensuring access to education, and 4) retirement benefits and overall quality of life.
Skills for the next generation?
I asked Minister Bains and his co-panelists what they prioritized as critical skills for the future of their own children, given that the scope and speed of job market change is truly unprecedented. Their responses were quite uplifting: Minister Bains focused on confidence, problem solving skills, being intuitive and find solutions to make the world a better place. Airbus CEO Dirk Hoke spoke about raising decent human beings with good self-esteem and fast learners that have the flexibility to learn. Mike Gregoire, CEO of CA Technologies, also emphasized critical thinking, creativity and adaptability to change, saying that he had four jobs in his career, while his 18 year old twins are likely to have as many by the time they are thirty. Andy McAffee concluded that he would prioritize emotional intelligence, advanced social skills and empathy.
Championing solutions to global challenges: more critical than ever
Despite skepticism and uncertainty about the new global order, Davos created a meaningful thrust and reaffirmation to global development principles:
There were over 20 sessions (in the official program and probably half as many side events) dedicated to climate change and its multifaceted impact on migration, health, food and our livelihoods.
Twenty-two companies—including pharma giants Novartis, Roche, GSK, Pfizer, and Merck—announced in Davos the formation of an initiative called "Access Accelerated," which will aim to tackle noncommunicable diseases in developing nations. The companies are seeding the new program with $50 million in investment over three years.
Matt Damon took the stage in Davos to announce a public-private partnership with AB In-Bev's Stella Artois to improve access to clean water in the developing world, while
Bill Gates launched a new coalition to outsmart epidemics. The Coalition for Epidemic Preparedness Innovations (CEPI) has backing from the Bill and Melinda Gates Foundation, the Wellcome Trust, and the governments of Germany, Japan, and Norway – and it's trying to get even more nations involve, with a goal of raising $1 billion to finance its activities over the next five years.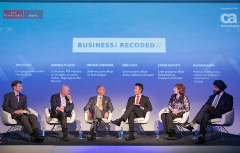 My personal highlight was Facebook's* Davos exhibit/lounge. The sleepy skiing resort transforms itself during the Davos week with numerous corporate brands building makeshift corporate lounges or taking over local spaces (from pet shops to local galleries). Facebook, for a second year in a row created an interactive exhibit where they demonstrated through various physical and digital tools the way the company sees its future and impact. This year they have shown the solutions to a number of challenges – from disaster relief to refugees to small & medium enterprises growth to using AI to help people with disabilities. Wearing the hat of a public affairs/communications professional, this approach particularly resonated with me. Technology (and any sector) ought to show how they are using their resources and know-how to impact our societies for the better, because you cannot have companies be successful in a failed world.
*APCO client